My sister and I blame our wanderlust on our parents. Family travels were a thing in our home, and I still can go back in an instant to that heady rush on the day of our trip, when us two girls would be bouncing off of the walls with excited energy at home, then the airport and then beyond. It's been 9 years since I moved abroad, my sister's since moved away from home for grad school as well, so you can imagine how feasible our family trips are now. Hence my one wish lately when our families visit- to gift us all new experiences together with travels near or far.
With only a weekend to spare when my sister visited us recently, we picked Seattle. It was such a good time exploring the sights on a perfect summer weekend, with an unexpectedly foggy road-trip to Mt. Rainier National park thrown in!
I put together a recap of our two-day itinerary below in the hopes that anyone visiting the Emerald City has a mini-guide handy. (Also, I totally, shamelessly, entirely would not mind if you took me with you… please and thank you. 😚)
Day 1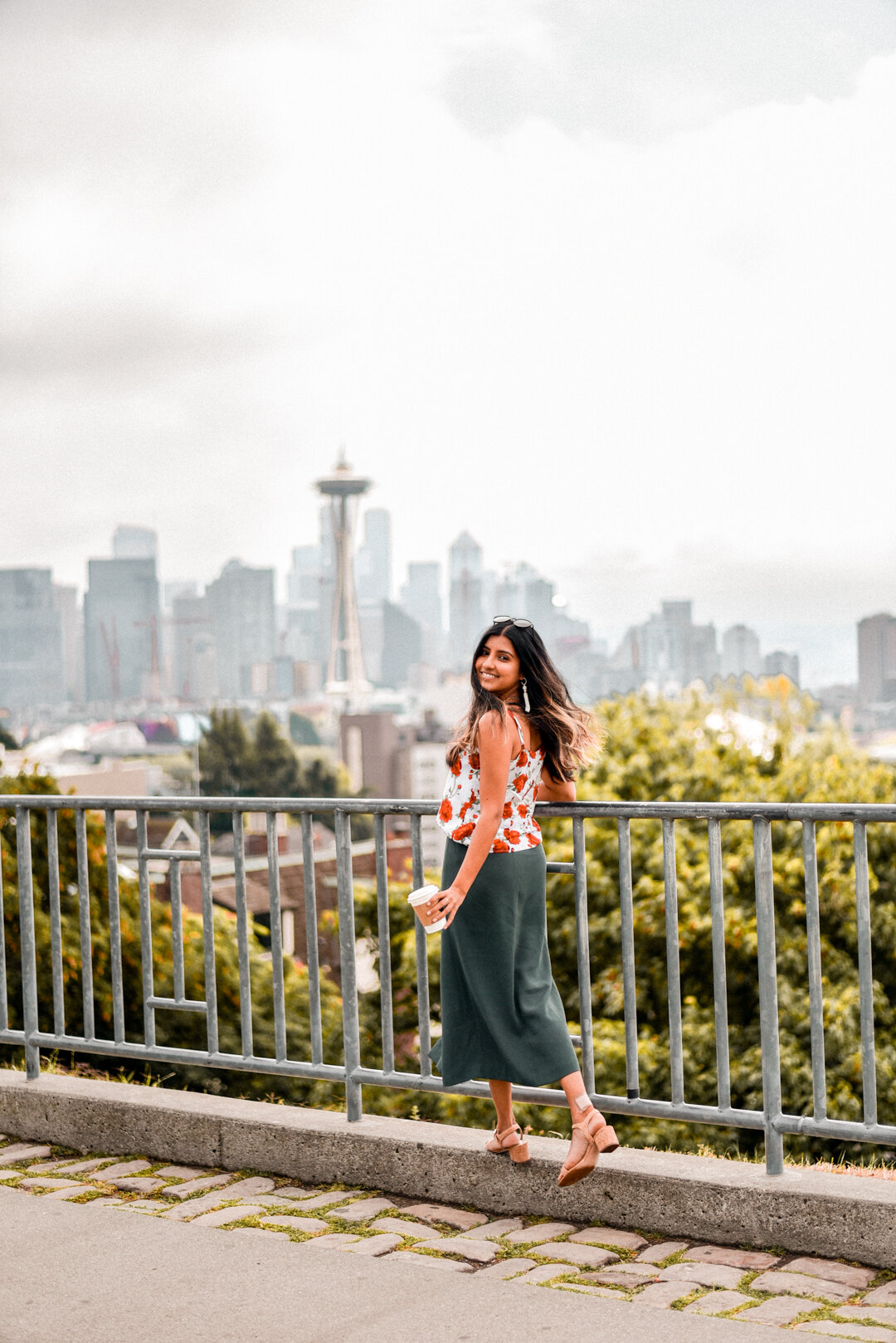 Kerry Park
A quick stop on Saturday morning in sleepy and quiet Capitol Hill for Métier Cafe and General Porpoise doughnuts (vanilla FTW!). A short drive to Kerry Park to catch our first glimpse of the iconic Seattle skyline. A short re-run of a long Grey's Anatomy playlist of soft, moody acoustic covers. A quick set of pictures with my two best people. 🤗
Ballard
Like all great cities, Seattle has a uniquely identifiable vibe. Like all great cities, Seattle's uniquely identifiable vibe is a melting pot of its many neighborhoods- their character, history and people. Ballard was Google's first suggestion on my 'Seattle-y neighborhoods' search, and it was spot on. Ballard has a hip waterfront location, tons of trendy restaurants & cafes, and OMG so many cute indie boutiques! I could have spent all day hunting down treasures in them. 😍
Gas Works Park
A short drive from Ballard through its neighboring Fremont, and we were at this one-of-a-kind Seattle stop. Gas Works Park is ~19 acres of public park land on the shores of Lake Union that used to be the Seattle Gas Works gasification plant. The gigantic industrial remains pay testament to the history of the city while the park provides stunning views of the skyline across the lake, green rolling slopes to picnic on and direct access to the lake water for those inclined. We had a lovely time soaking up the sun, strolling along the waterfront and watching the kayakers make hay while the sun shone!
Pike Place Market
The star attraction that most might be familiar with, Pike Place is a gem among gems in Seattle. A farmers market started in 1907 that's grown into a multi-floor multisensory experience, it's a fun fest of foods, drinks, arts and crafts and more. We sampled too many yummy eats (Piroskhi Piroshki! Ellenos Greek Yogurt!), watched the fishermen do their thing, sipped some bubbly on a rooftop bar, admired the flower mart, ogled at the gum wall(!)… before we knew it, it was time to watch the sun set on our first day in Seattle with other market-goers along the waterfront. ✨
Pioneer Square
With a roadtrip ahead of us, we fueled up at Cherry Street Coffee House in Seattle's oldest neighborhood, Pioneer Square. Like all of the cafes we tried, this old breakfast establishment hit didn't fail to impress! If you're a coffee stan like me, Seattle serves up amazing coffee culture. Most people beeline it to the first Starbucks ever at Pike Place, but we skipped it for some amazing local cuppas. Time permitting, we'd have sipped on one on a walking tour to learn more about this historic part of the city and browsed the many charming shops and businesses that beckoned from afar.
Mt. Rainier National Park
This NP is a rarity in that it is a mere 1.5h away from downtown Seattle, whatttttt. 🎉 Although do-able in a day like we did, we would have loved to stay a night and really explore, especially given that the mountains decided super last minute to make their own weather i.e. FOG. But not having more time and knowing that it's unlikely that we'll be back in the near future as a group of three, we carpe diem'd it and included it on our itinerary. As the quintessential outline of the pine forests took shape outside our windows and we realized that our planned hike definitely was a fail with << visibility 😂, we settled on the upsides- summer's wildflowers were in bloom (albeit seen through an eerie foggy lens!) and the company was 💯.
And that's our short and sweet weekend getaway to Seattle! There is so much more I wish we could have fit into our time there- the Space Needle, Chihuly Garden of Glass, Museum of Pop Culture, Bainsbridge Island and the Santa Cruz Islands, to just name a few. But isn't a great place one that convinces us to go back for second servings? I'll be patiently waiting and wishing for an opportunity to do exactly that sometime soon. ❤️
Thank you for reading and have a great week ahead!
XO Sushmitha :)